Are your team Slack based and looking for a way to improve task management? If so, you may consider using a Slack app like Let's Do to manage the workload and planning in Slack. By managing tasks and priorities in Slack, you can keep everyone in the loop and move projects forward, one task at a time, without leaving Slack. Let's look at how you can streamline task management for your team.
What is Slack task management?
Slack is a popular messaging and communications platform for businesses and teams of all sizes. One of the reasons for its popularity is its integrations with a wide variety of apps and services. This includes task management apps that many teams of all sizes use to manage the work that needs to get done, report status, and plan ahead of time. Slack can be used for much more than sending quick chat messages. With its many features, it helps organizations build processes and routines to drive the work forward, and it can be used across multiple devices and platforms.
If your team is already using Slack to do team communication, a Slack task management app can be a great way to boost productivity and team alignment. With such a setup, your team manages their work in the same platform used for communication. Keeping focus is easier when you don't have to switch between different apps and contexts. For example, you can avoid having to check your email for updates on a project, or you can create tasks right from where the discussion happens.
Many task management apps integrate with Slack. Just browse the Slack app directory for many different solutions and ideas for how to solve the problem. This blog post will look at Let's Do, an app specifically designed for task management in Slack for small teams. We'll see how it works and how it can help your team get more done.
How to get started with task management in Slack?
Getting your team organized and on the same page can be a tough task, but with the right tools, it can be a breeze. We recommend using Let's Do for task management in Slack. With Let's Do, you can assign tasks, set due dates, and discuss the work that needs to get done, all without leaving Slack. Let's Do is easy to use and follows the process of many other task management applications, but is designed to work right within Slack.
To get you started: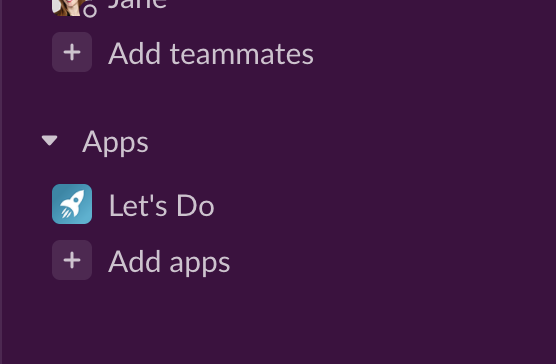 Install the Let's Do app, head over to the install page and click "Add to Slack", and follow the next steps of the installation process.
Once installed, you will find the Let's Do app in the left sidebar in Slack, under "Apps".
Create a few test to-dos to get a feeling for how Let's Do works. With the app, you create to-dos that belong to a channel in Slack. It can be a team-specific channel or a channel created for a project. For a more in-depth handbook, check out the getting started guide.
Next, ensure that your team is aligned and knows how to use the Let's Do app. This is usually quick, but it can be good to encourage everyone to test out the Let's Do app with a few test tasks. Follow up with the team on any questions to ensure everyone is on track and feels at home using the app.

To get started creating tasks, identify your team's current main objective, and create to-dos based on that goal:
Set deadlines and assignments for each task to keep your team on track and to keep everyone accountable for their tasks.
Set expectations for your team members by clearly communicating how and by when each task should be completed. This can be done in Let's Do use due dates and the" When completed, notify" option for to-dos created in the app.
Make sure team members have access to any specific info needed to complete the task. Use the "Notes" field to add this.
Get started working on the created tasks.
Each team member can see their assignments by clicking the Let's Do app in the sidebar in Slack. And if any tasks are not completed by their due date, notice will be sent to the assignees to remind them about the task.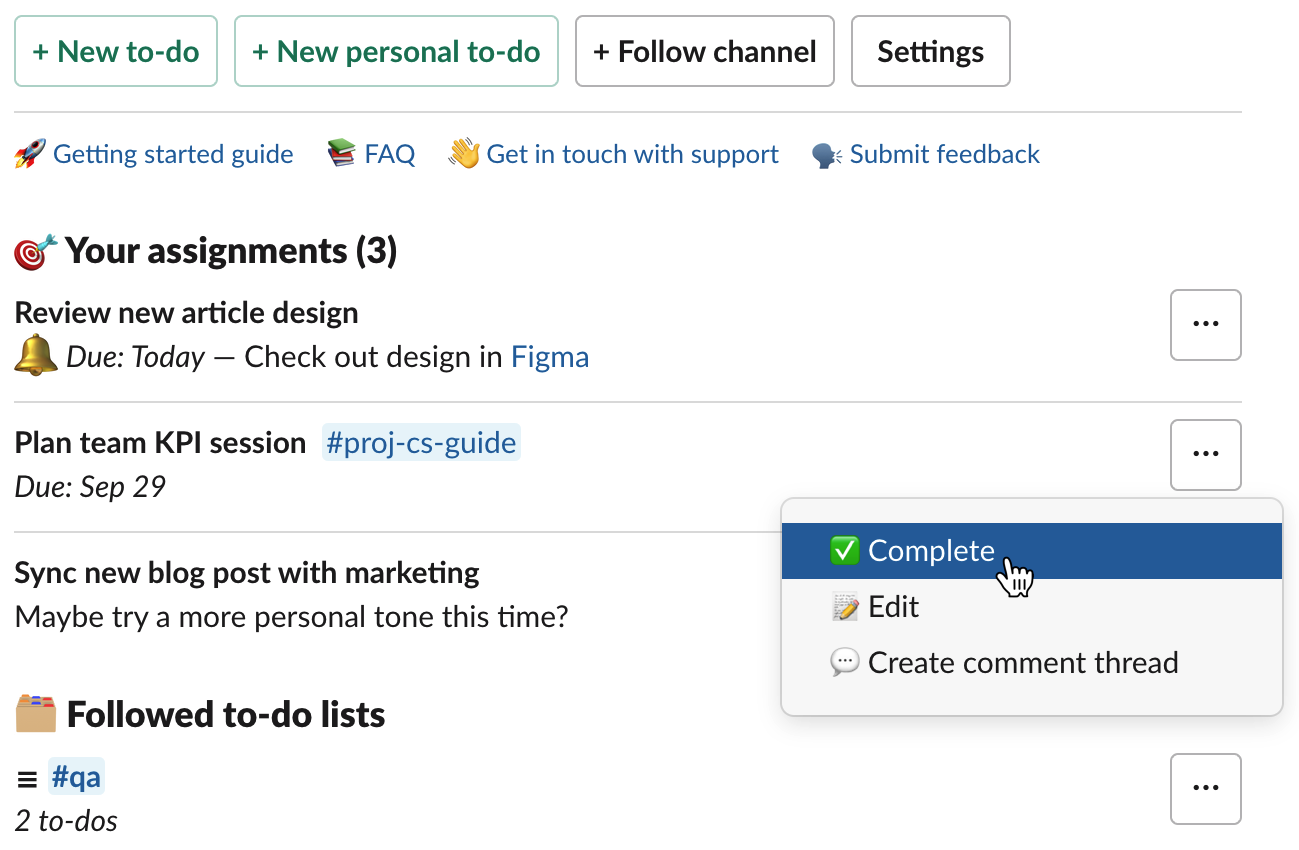 As you and your team complete your tasks, review what went right and which processes need improvement. To start, encourage the sharing of peer feedback among the team. Then, use what you learn to make changes that improve the process for the next set of tasks. For example, a recurring meeting every Monday is a good way to go through the current week's task and review what went down the week before.
By following these steps, you'll be well on your way to getting your team organized and on the same page. With the right tools and a little bit of effort, you can make task management in Slack a breeze.
How Slack task management can help you be more productive
Slack is a great tool for managing communication, tasks, and priorities for small teams. By using Slack's channels, you can keep everyone in the loop and move projects forward using one platform. Channels can be used to create context. For example, you can have a team channel and separate channels for projects. Use these channels to group to-dos created with Let's Do.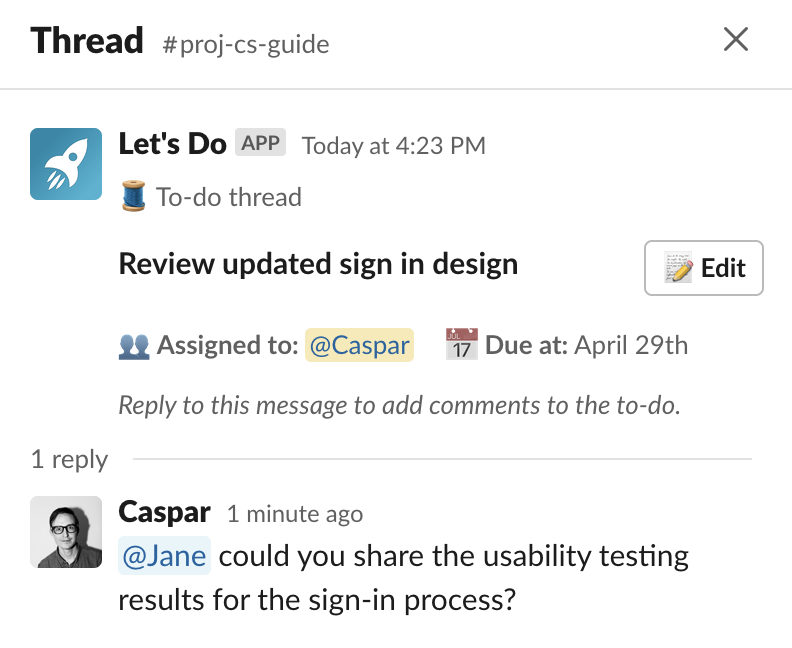 You can also use Let's Do comment threads for to-dos to discuss a to-do, share status updates or add extra files or content that doesn't fit in the to-do "Notes" field. The thread is saved as all your other Slack messages and will get easy to get back to at a later point.
And don't be afraid to delegate tasks to other team members. This will help lighten your load and allow you to focus on the most critical tasks. With Let's Do, you easily add new to-dos and tasks as needed. You can choose if the assignee will get notified or not about the new assignment to not create information overload.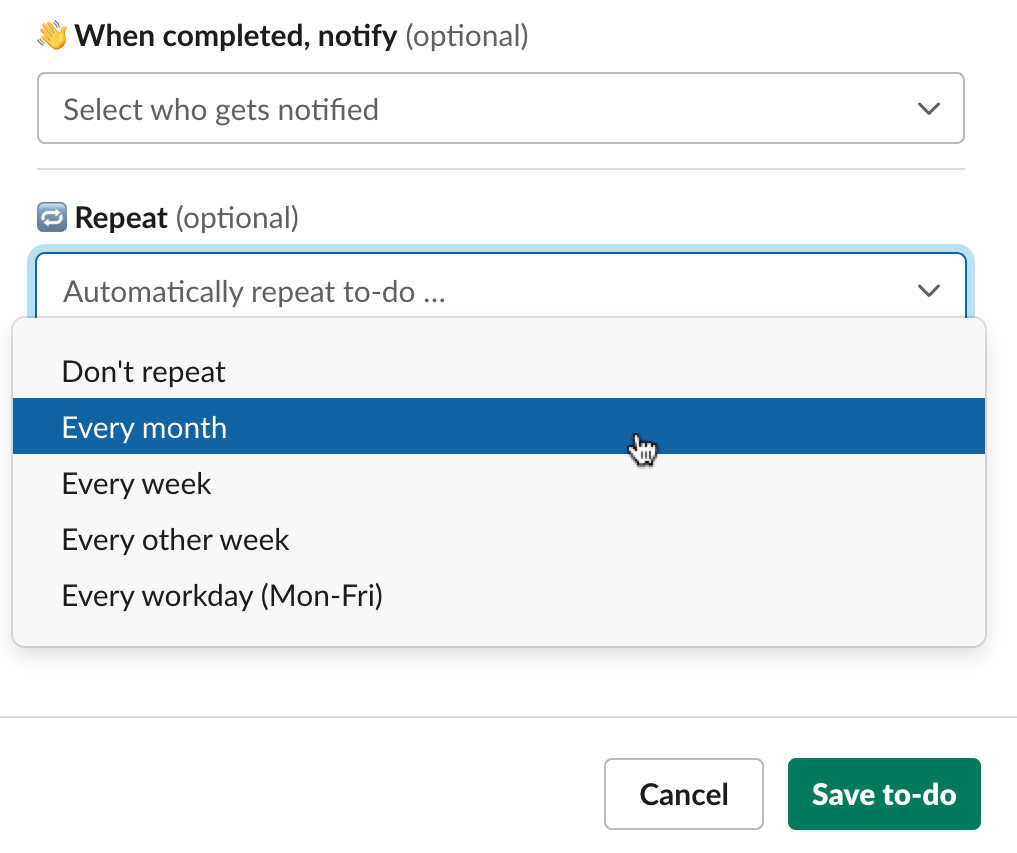 Automating repetitive tasks can save you time and effort, especially if they are both recurring and time-consuming. Need to remind the team to submit a time report at the end of every month? Set up a recurring to-do using Let's Do to ensure it gets done in a timely manner.
Communicate regularly and keep the team updated on the status of their projects and let them know if there are changes. Regular communication will ensure everyone is in the loop, which ensures that everyone understands deadlines and the current priorities.
Summary of using Slack apps for task management
A team with a system for managing tasks and priorities will boost productivity and team alignment. Using Slack app integrations, a Slack-based team can bring their task management into Slack to avoid needing to switch focus or apps to manage the work.
Using a Slack-task management app like Let's Do, a team can streamline its processes and ensure it focuses on the most critical tasks. Without leaving Slack - if a team member is on Slack, it will instantly also have access to its tasks and priorities. By using the channels in Slack workspace as context for tasks, you create a clear organization and can keep the discussion for each task focused.
If you want to give Let's Do a test run, we have a free 14-day trial. It will give you plenty of time to fully explore the potential of Let's Do and Slack task mangement.
And if you have any questions, just get in touch.